Trusted Diagnostics and Lab Disposables
BioSys Laboratories is a leader in the diagnostics and lab disposables market.
Since 1994, BioSys Laboratories has been successfully serving the medical community by supplying a variety of products, both branded and private label. These products include urine test strips and analyzers, urine control solutions, microscope slides, cover glass, 5-Slide mailers, and ultrasound gel. BioSys Laboratories is now pleased to introduce its new CLIA-Waived UriScan Microalbumin / Creatinine Urine Test Strips, in both a 2-test and a 10-test format, with maximum efficiency and reimbursement.
Why Choose BioSys Laboratories?

High Quality Products
All of BioSys Laboratories' products have been thoroughly tested via rigorous quality control processes and have been sold in the U.S. and beyond for 25+ years. This longevity is not possible without the highest quality products.

Affordable Products
BioSys Laboratories' distributor customers receive greater profit margins while their end-user customers receive a high quality product at below market prices.

CLIA Waived Products
BioSys Laboratories' UriScan urine test strips and Optima urine analyzer are waived products under the Clinical Laboratory Improvement Amendments of 1988 (CLIA).

Superior Customer Service
BioSys Laboratories is easy to reach via our national, toll-free line. We provide lifetime technical support for all our products.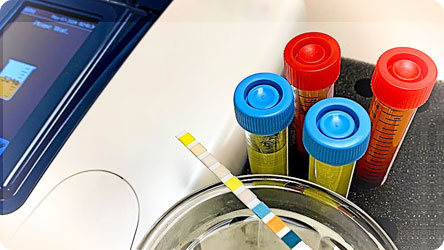 About Us
BioSys Laboratories' products are high quality alternatives to name brand products, all at affordable prices. The result is a win-win situation for all.